Sorry no pictures today, we have had a houseful of family all weekend and I never picked up the camera, shame on me. But we had a wonderful time with family visiting, a few brothers and sister-in-laws, and 3 baby boys. The twins are 2 and had a blast in our yard which was lots of fun! We talked, played games and ate lots all weekend long. And it gave me the push I needed to get the house done, things on the walls and everything! So now that the house is more empty again and reasonably dirty, its still so much better than it was because things are mostly put away and organized. Its so exciting!
I am looking forward this week to the first meeting of my new womans bible study, I have had it on my heart for ages to start a day time study as there isn't much like that in the area, and now that I am moved in and feeling a little better I didn't want to put it off any longer. So I can't wait to start this week.
Also new this week I started feeling the baby, and now four days later I can feel strong kicks all day long, I am convinced she is practicing the triple jump in there just like daddy, or at least building up those leg mussels, and I imagine they will be long legs like all the Grahams. But we will see.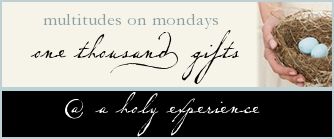 340-349
Beautiful sunny weather!
Airing out the house with every window open!
Turning off the heat!
Space to run and play!
Safe baby's
Brothers bonding
Generous friends with used baby gear!
People to cook for!
Snow in the forecast!